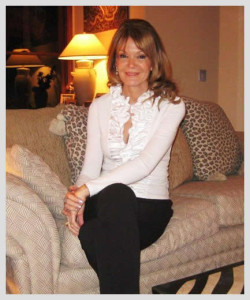 I was born in the UK and grew up in Australia. The turning point in my life was my father's sudden death when I was a teenager. I realised then that life is short and I shouldn't waste a minute. High on my 'to do' list was writing a novel. But it wasn't until I was living in London that I took the first step and enrolled in a writing course. I was hooked! With some practical skills behind me, it took a meeting with Sidney Sheldon to really encourage me to finish a novel. My luck held when another famous author, Colleen McCullough of 'Thorn Birds' fame introduced me to my agent.
The result was the international publication of my first suspense thriller, 'Shadows of Power' (e-published as 'Indecent Ambition'). When reviewers compared my story-telling to Sidney Sheldon's, it was beyond my wildest dreams.
As well as suspense novels, I also write novels that explore the deeper challenges of women's lives. My characters in both genres are strong, intelligent women, and much of my inspiration has come from topical issues that I weave into both genres.
I love the challenge of developing plots and characters that will keep my readers riveted to the page. I thank all of you who enjoy my novels for the joy of being able to work at a career I love. In an increasingly complex world little can beat the pleasure of curling up with a truly riveting book – e-book or traditional!