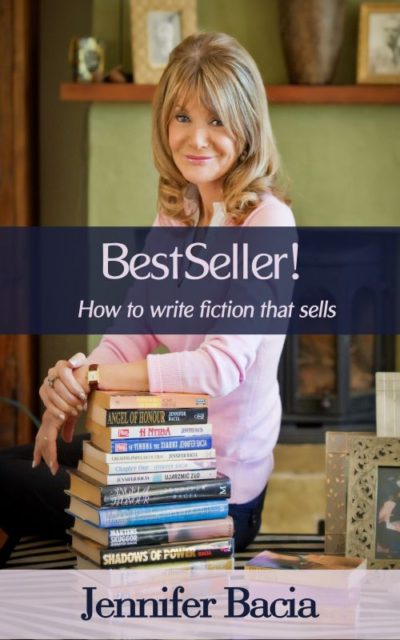 BestSeller! How to write fiction that sells
This guide is packed full of practical information from an author who has the credentials and experience to help you write the novel you are dreaming of.
Jennifer Bacia's first novel was bid for by international publishers, the film and foreign language rights were sold, it was a Doubleday Book Club Choice and a lead title in the UK.
The author not only gives you the information that will help you write your own bestseller, but also analyzes her debut novel to show how she turned an initial idea into a powerful, intriguing story
that major publishing houses competed for.
Through practical examples drawn from her own successful novels, the author details not only how to do it, but just as importantly, what not to do.
She shows how to:
Brainstorm ideas and test those that will go the distance
Create and structure a story line
Persevere when you feel defeated
Show how characters think and feel
Use sub-plot, flashback and fast-forward
Write authentic dialogue
Create suspense
Write a credible and satisfying ending
Establish a writing routine that is essential to complete your novel
Jennifer has been a Visiting Lecturer in Creative Writing at major tertiary institutions. She also writes screenplays and short stories.
Since that amazing start to her career, Jennifer has written another 7 novels that also made the bestseller lists.
Reviews:
"A novelist to rival Sheldon…" Cosmopolitan magazine.
"Jennifer Bacia pioneered mass market fiction in Australia." Matt Condon, prize-winning author and journalist.
"Superbly crafted thrillers…compelling suspense." The Sunday Times
"Jennifer Bacia's success helped lay the foundation of my very successful stable of popular fiction writers." Selwa Anthony, Australia's leading popular fiction agent.
"Bacia is especially good at the simple but deadly emotional arithmetic of contemporary relationships." The Australian.
"Rivetting, intelligent plots with characters of depth and substance." Goodreads.
---
Book categories: Non-fiction