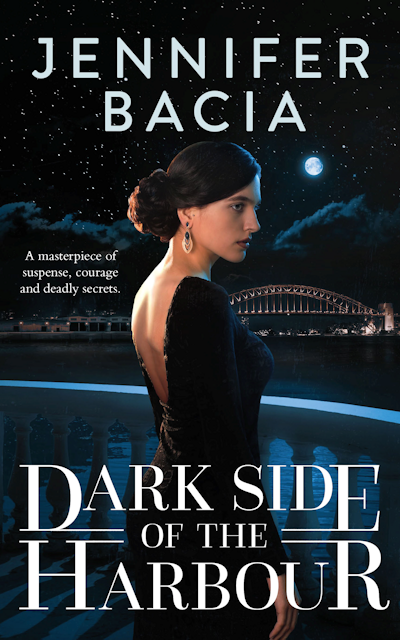 Who do you trust when everyone lies?
It's the Swinging Sixties, post-war Australia is booming and the excitement of the city lures two young women to Sydney. Naïve, country-raised Rose is overawed by the glamorous worldly Margot who makes no secret of her social ambitions. But it is a chance meeting with two debonair Europeans that draws them into a tragedy that will change each of their lives forever.
Fast forward over two decades later, and a top rating media team has begun investigating a long-ago murder on the sleepily opulent Northern Beaches. From the ritzy Peninsula Club to the surf clubs, the locals are abuzz with speculation. Some have reason to feel nervous – including the police. Others who have stayed silent for years, are at last tempted to tell the truth. A truth Margot and Rose could never have imagined.
From Sydney's deceptive glitter, to the grit of Warsaw under siege, Dark Side of the Harbour is a gripping story of courage, resilience and deadly secrets – where only the strongest bonds survive.
"A rip-roaring, irresistible page-turner" – Sunday Times
"Move over Sidney Sheldon…Gripping, highly entertaining" – Sunday Mail
Available from Booktopia
Reviews
I have long been a fan of Jennifer Bacia and this (long-awaited) book did not disappoint. I finished it in 2 days (and that's while working a full-time job and being a full-time single mum to two young children). I cannot recommend this book highly enough!!  — BOOKTOPIA
A wonderful novel with equal parts of love, grief and redemption, and the opening pages set up a plot that is hard to put down. Jennifer showcases her knowledge of Post-war Australia as we follow the adventures of two young women in 1960's Sydney. They form an enduring friendship with two Polish immigrants and the relationships take many twists and turns. I found this book heartbreaking as well as beautifully uplifting – and reading about Jennifer's Polish father (her inspiration for the book) made it even more memorable. Definitely add this book to your must-read list! — BOOKTOPIA
I've always been a fan of Jennifer Bacia's novels and the latest one has all the ingredients I love in her work. An absolutely gripping suspense story with a twist around every corner. But while her books are very entertaining, Jennifer always manages to go much deeper. It was especially fascinating to read about Australia in the sixties when so much began to change. Jennifer really made that era come alive. I learnt a lot from this story. I read this book in one sitting and really didn't want it to end. You won't be disappointed by this gripping read. — BOOKTOPIA
---
Book categories: First